Landscape Lighting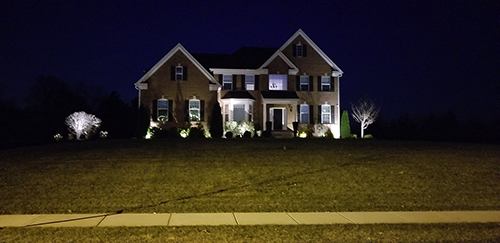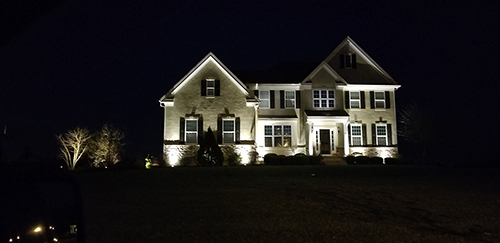 Why Should You Install Landscape Lighting?
Landscape lighting can be used to showcase interesting features in your home's architecture or yard! At Santini Maintenance, we can design and install outdoor lighting that will illuminate and call attention to your landscape at night. Landscape lighting is a fully customizable way to improve the look of your house after the sun goes down, particularly if you enjoy entertaining or you want to improve your home's curb appeal.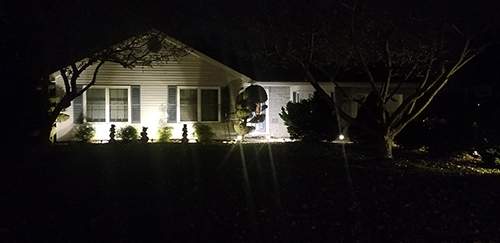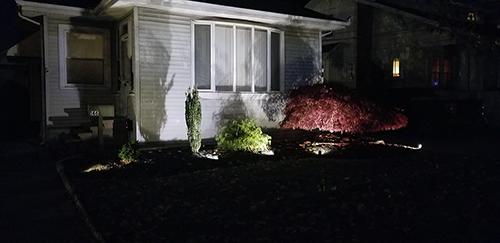 Landscape Lighting Adds Security and Visual Appeal
Dark spots in and around your yard can be dangerous, particularly if they are around entry points into your home. With low voltage landscape lighting, you can shine a light on potential problem areas in your home and deter criminals late at night!
In addition to keeping your home safe from intruders, low voltage outdoor lighting can make walking around your yard safer. It can be used to light up stairways, paths, etc. to prevent tripping and injuries. Make your time even more enjoyable by lighting up the backyard! Santini Maintenance can design and install outdoor lighting that will let you enjoy your front or backyard late into the night.
More than anything, outdoor lighting makes your house stand out from your neighbors'. If you're planning on selling your home, installing well designed and outdoor lighting can add value to your home by improving its appearance and security. Value added to your home, enhanced aesthetics, and better security makes landscape lighting a more than worthwhile investment.
Learn More About Your Low Voltage Outdoor Lighting Options
Adding a stunning nighttime touch that also increases the safety and security of your home is a smart decision. Give us a call at 609-249-5610 an one of our landscape lighting experts will be glad to help develop an installation plan that will both add value and look great.
Our Service Areas
Landscape lighting installation and our complete range of landscaping and lawn care related services are available throughout Mercer County, including: Hamilton Twp., Hamilton Square, Mercerville, Groveville, Yardville, Washington Twp., Robbinsville, East Windsor, West Windsor, Lawrence Twp., Lawrenceville, Princeton, Princeton Jct